Best ways to protect your rental property in Ithaca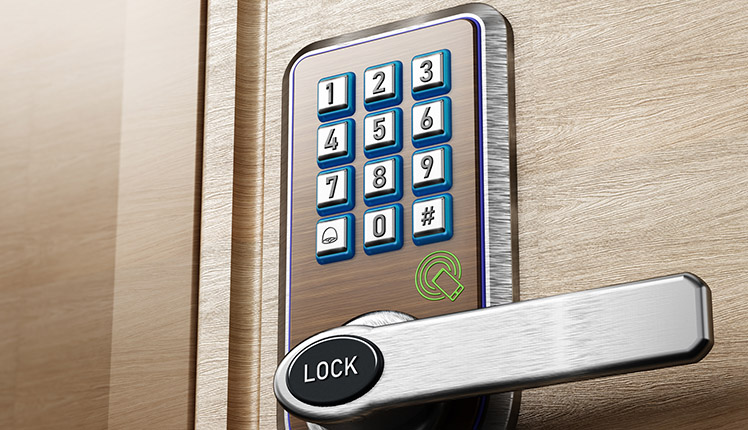 Regardless of whether you sublet the family lake house or you own a diverse portfolio of Airbnbs, you may find it a challenge to protect your rental properties in Ithaca. Due to the continual flow of guests, it's easy to miss a key when someone leaves or find yourself missing a valuable belonging. And what should you do in the event of a flood or fire at your Airbnb when you're away?
From enhanced locks to comprehensive security with home automation, here are some top recommendations on how to protect your Airbnb in Ithaca.
Get rid of your keys with your Ithaca smart door locks
When a guest vacates the premises, they might leave the keys behind for the ensuing occupant. However, if a tenant grabbed or made a copy of a key, it would be possible to access your place again sometime in the future. Of course, you have the option to switch out your locks after a key goes missing, but that is not a timely or cost-effective solution.
Fortunately, you are now able to put in smart door locks that work in conjunction with your home security system to put these concerns at ease. Then, you can provide each visitor their personal code number for entry. When tenants check out, there's no reason to mess with a key dropoff. All you need to do is set the door code to no longer work when they vacate the property. If former lodgers reappear and attempt to use their old code on the number pad, you will receive a message of a failed entry on your phone.
Home automation makes empty properties appear occupied at all times
It's nice to think that your Ithaca rental property will be occupied, but that's not always true. However, you need to make it seem that someone is home so your rental isn't targeted by burglars. Implementing a security system with home automation affords you the opportunity to take advantage of smart lighting, motion detection devices, and security cameras that make your lodging look occupied.
You can put your plan in motion by scheduling your smart lights to come on at specific hours of the evening. You will also want your cell phone app to warn you if your cameras notice an intruder lurking in the shadows or walking toward your primary entry. You can employ the talk capability to make them know you're watching or arrange for your lighting to automatically come on when a surveillance device or motion detection equipment discerns something unusual.
Protect your Ithaca rental property with 24-hour monitoring
Your tenants will be more relaxed if they feel protected from intruders, particularly when Ithaca is unfamiliar territory. When a thief makes an effort to break in, your home security system will not only sound a siren but will also alert your 24/7 monitoring agents. Even if you're not available, emergency services will be forthcoming. Your monitoring experts will even act as your point person and loop you in as soon as you're free.
Along with home invasions, your monitoring team can be connected with fire alarms, water sensors, and CO detectors. It can be distressing for your renter if a pipe bursts or a fire breaks out. You will then get a cell phone notification that an urgent situation has taken place, but an agent will also authorize emergency services while you're on the way.
Order a modern home security package in Ithaca
The first step in protecting your Ithaca rental property is to invest in the latest in home protection. Thankfully, Vivint provides options like smart lights, smart locks, and 24/7 monitoring. Contact us today and our security specialists will design a package that makes sense for your rental. Dial (607) 600-9658 or submit the form today!