How do smart thermostats work in Ithaca?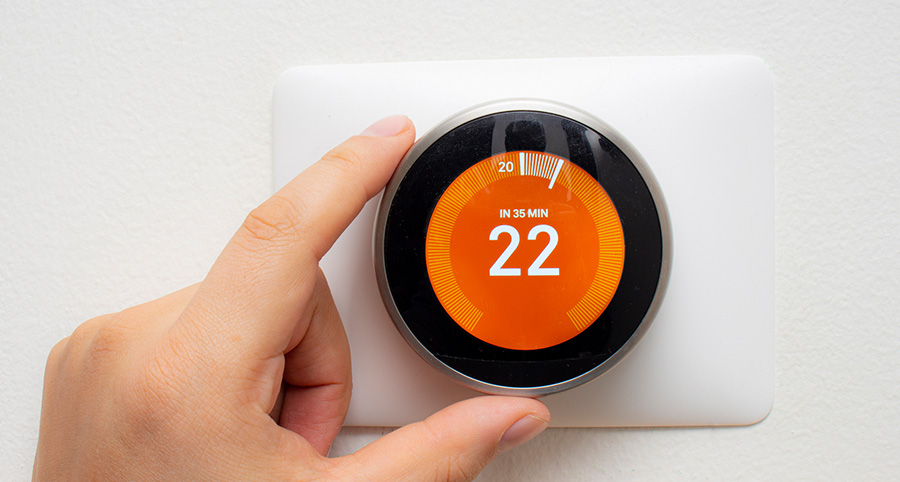 Imagine having the chance to direct your home's temperature by vocalizing a command or by using an app on your mobile device. Now, go a step further and envision having a device that will learn your routine and adjust automatically. As you can see, smart thermostats are extraordinary advancements in technology that can bring convenience, energy conservation, and even safety to your home. Keep reading to get a better idea how they work and what they might do for you.
How are smart thermostats different from regular models?
Notwithstanding their special capabilities, smart thermostats work similarly to regular styles. Namely, they are hardwired directly to your HVAC equipment. You may also manually raise and lower your home's temperature by engaging with the device attached to your wall. But that's pretty much where the parallels conclude.
Ithaca smart thermostats bridge to your home's wireless internet
You can summarize the difference between regular thermostats and the new advanced versions in two words - wireless internet. This opens a multitude of exciting capabilities like smartphone access and control. Essentially, you can modify your comfort settings from any location. Did you not remember to lower the settings when departing on vacation? Don't worry about it. Just open the intuitive Vivint app on your mobile device and quickly change it. There are a range of other tasks you can complete with the app, including:
Switch between cooling and heating
Set your system to a specific mode such as sleep, home, away, and vacation
Switch your fan on or off
Obtain alerts when temperatures are manually or automatically adjusted
Change the temperature by simply saying a command
Your Wi-Fi connection gives you an additional incredible bonus as you can link your unit to a Google or Amazon smart speaker. If you're trying to keep comfy on a frigid winter night and you don't want to leave your cozy spot in the recliner, just give an order like "Alexa, turn up the thermostat three degrees".
Vivint Smart Thermostat can adjust automatically
The Vivint Smart Thermostat actually takes convenience to a new level by using its built-in Smart Assistant. When integrated into your smart home, the thermostat is able to employ in-home sensors and other features like geolocation to tell if you're at home or not. Not to mention, this smart component will even note your preferences and change settings to match. To illustrate, if you usually like the house a bit cooler in the evenings, the thermostat will observe that and do it for you.
Integrated safety precaution to limit fire
The automated capability also plays a role in your safety. The Vivint Smart Thermostat features an emergency HVAC shutoff when fire is identified to limit the escalation of smoke and flames. You could also program it instantaneously turn on the exhaust fan to help vent your house.
Reduce your utility expenses in Ithaca
Your smart thermostat's potential to alter temperatures automatically and your ability to modify them from any location isn't just nice to have, it's good for your bank account. If you change the settings 5 to 10 degrees for when you're not there, you can save quite a bit - up to 10% on energy bills.
Customize your own Ithaca smart home
Since you now have more insight into how smart thermostats work in Ithaca, it's time to incorporate one into your residence. The Vivint smart home professionals are ready to assist. Place a call to (607) 600-9658 or fill out the form below to begin.